The Takeaway
Insufficient sleep has an impact on every part of our lives, including at work.
Many employees report difficulty concentrating at work or feeling that their productivity is not optimal.
Individuals can take personal steps and employers can make accommodations to help workers get the sleep they need.
The Toll of Insufficient Sleep on Workers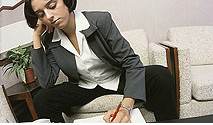 It's not only night shift workers who find it hard to stay awake on the job. As Americans work extended hours, routinely take work home, and juggle two or more jobs on top of long commutes, sleep has become a casualty of the race for time. But lack of sleep undermines performance and can create a vicious cycle of working more hours to compensate for diminished productivity and having less time to sleep.

This high-pressure lifestyle is taking its toll on Americans' health and well-being. As anyone who has had a sleepless night knows, sleep deprivation affects mood, increasing anxiety, depression, irritability, and impatience. It also impairs physical performance and memory and makes mistakes more likely to happen. According to the National Sleep Foundation's annual Sleep in America survey, 65 percent of Americans experience sleep problems.1 This means that the workplace is often a less than productive or congenial environment.

The same Sleep Foundation survey also reported that 40 percent of respondents were impatient with others at work; 27 percent frequently found it hard to concentrate; and 20 percent had lower productivity than they expected.2 For people who work nights and extended shifts, such as police officers and medical professionals, sleep deprivation can jeopardize public health and safety. Even faced with these negative consequences, it isn't easy to balance work/life issues in a culture where overwork has become the norm.


Dr. Christopher P. Landrigan discusses the relationship between work schedules and productivity.
There is tremendous data that suggests that when work schedules are decreased in certain industries, not only does safety improve, but efficiency and productivity go up as well.
-Dr. Christopher P. Landrigan
What to Do
Here are some measures that employers and workers can take to reduce the negative impact of too little sleep:
Adopt Good Sleep Habits

The poor sleep that shift workers often experience can have negative impacts on the jobs they perform. © 2008 JupiterImages Corporation

Sleep-deprived employees can start by practicing good sleep hygiene, which addresses many of the factors that interfere with sound sleep. At work, don't stay chained to your desk: take breaks and exercise before, during, or after your work day and you'll be more alert and energetic. Consuming caffeine in moderation with breakfast or lunch can also improve alertness.

Barbra, a night shift nurse, has made changes to improve the quantity and quality of her sleep by making sure that her bedroom is dark, her phones are turned off, and her family and friends know not to disturb her while she is trying to sleep. Read more about this and watch a video of Barbra's Sleep Makeover.

Assess Your Personal Goals

The effects of insufficient sleep drive some people to reevaluate their priorities and consider whether getting ahead is worth the health risks of chronic sleeplessness. If you work in a high-powered environment that demands and rewards long hours, you may want to see if you can negotiate a work schedule that is more conducive to a balanced life.

Sheila, a Boston lawyer, adjusted her work and sleep schedule when the demands of parenting and work left her chronically tired, cranky, and feeling less productive. Read more about this and watch a video of Sheila's Balancing Act.

Advocate for Yourself and Others

Limiting work hours and giving shift workers time to adjust to their schedules can improve their sleep, health, and job performance. © 2008 WGBH Educational Foundation

When discussing your work difficulties with your manager or a human resources representative, stress the connection between sleep and productivity. Show that you take your work responsibilities seriously and want to make changes—such as working more flexible hours—that will help you do your best. If your employer requires overtime, you have the right to refuse.

Some collective bargaining agreements by unions and other employee groups have been successful in establishing work shifts that support sleep, limit hours, and provide alternate transportation so that workers do not drive home drowsy. Officer Lou Campione worked through his union, the Fraternal Order of Police, to institute shift rotations that vastly improved the health, safety, and longevity of police officers in Philadelphia. Read more about this and watch a video of Lou's Killer Shift.

Employer-Supported Initiatives

Employers can institute policies and practices that promote employee health, such as installing bright lights that help maintain the brain's alerting signal, offering vending machines with healthy foods, and providing access to an exercise facility and space for nap breaks. Employers can also prohibit forced or coercive overtime, citing studies that show that working longer shifts reduces productivity.

Some industries have instituted regulations to limit work hours and prevent sleep deprivation for workers—such as pilots, truck drivers, and medical residents—whose jobs impact public safety. For example, Summa Health System, a major health care delivery system based in Ohio, cut medical residents' shifts from the mandated limit of 24 hours to 16 hours. "We've created a new standard to allow for sleep recovery and limit time at task to an appropriate level. Our residents are clearly more rested and perform better, which reduces medical errors and increases patient safety and resident satisfaction," says Dr. David Sweet, program director of internal medicine residency at Summa Health System.

In addition, employers can allow alternative work schedules, including telecommuting, to give employees time to breathe—and sleep.
References
---