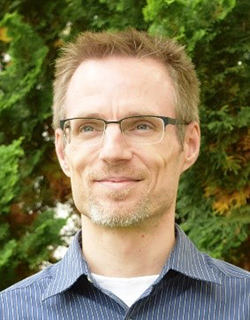 Dr. Frank Scheer, Harvard researcher, will join Northwestern professors in sharing research on circadian biology
The Center for Sleep and Circadian Biology (CSCB) at Northwestern University will celebrate 25 years of meaningful research on sleep and circadian biology with its first virtual symposium, bringing awareness and research to its largest-ever audience. As the first institution with a circadian biology research center, Northwestern has paved the way for an explosion in the field.
"I wanted this to be a celebration," CSCB Deputy Director Martha Hotz Vitaterna said. "We have incredible past trainees all over the country in different universities and centers, and I wanted to get these people together for a reunion."
The public symposium will be held from 11 a.m. to 6 p.m. (Central Time) on Wednesday, Nov. 11, featuring award-winning Harvard University researcher Frank Scheer as the keynote speaker. Vitaterna said the event welcomes lay people, University faculty and graduate students, and past associates from the center. She said one of the benefits of the virtual format is that the event will be more accessible for an international audience.
CSCB integrates basic, clinical and translational research by 20 faculty associates across three schools and many departments. The center studies sleep and circadian rhythms and is a leader in identifying genes in model organisms. 
Fred W. Turek, CSCB director, started studying circadian rhythms 50 years ago when the field was very small. Previously unrecognized as a subdiscipline in biomedical research, the discovery of circadian rhythms in the early 1990s helped the field take off. When the center was founded by Turek in 1995, Northwestern became the first university with a dedicated academic center for circadian rhythms research.   
Biological timing received international attention in 2017 when research exposing the existence of our inner clocks won the Nobel Prize. But even before then, Turek said research had come a long way.
"It showed great prescience that even before the Nobel Prize was given, scientists recognized that the field was taking off," Turek said. "Now with the 2017 win, this field is going to explode even more."
Turek said research has gone well beyond simply identifying genes that control circadian rhythms. The symposium will highlight research that has occurred since 1994. Northwestern researchers have made important advancements that expose the circadian system's ability to impact equilibrium and were the first to link disrupted rhythms and circadian feedback to metabolic syndrome.
After Turek introduces the center and symposium, Northwestern faculty affiliates will give 20-minute talks on their research. Trainees will then have the opportunity to meet faculty members to discuss recruiting postdoctoral researchers and conducting clinical research before Scheer gives his keynote lecture. Finally, five-year classes will meet for virtual reunions.
At the "Silver Clocks" symposium, Scheer will deliver his keynote address, "Impact of Human Circadian Systems and Its Misalignment on Cardiometabolic Function and Disease," at 4 p.m. Scheer is a professor of medicine at Harvard Medical School and the director of the Medical Chronobiology Program at the Brigham and Women's Hospital. He studies the relationship between circadian biology and various disease states including hypertension, asthma, obesity and diabetes.
Prior to Scheer's talk, the following Northwestern scientists will present on these topics:
Dr. Ravi Allada, "25 Years, 24 Hours, and a Clock"
Dr. Joe Bass, "Metabolic Clocks"
Kristen Knutson, "The Role of Sleep in Health Disparities"
Ken Paller, "The Hidden World of the Sleeping Mind"
Kathryn Reid, "The Rhythm of Life: Working With or Against the Clock"
Tiffany Schmidt, "Bringing Light to the Clock"
Martha Vitaterna, "Dirty and Spacey: NASA Studies at CSCB"
Dr. Phyllis C. Zee, "Circadian Medicine"