Medical Chronobiology Program (MCP) Research on Circadian Rhythms in Health and Disease
Department of Medicine, Brigham and Women's Hospital
Director: Frank A.J.L. Scheer, PhD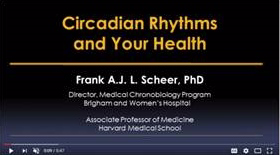 "Circadian Rhythms and Your Health Video - Brigham and Women's Hospital"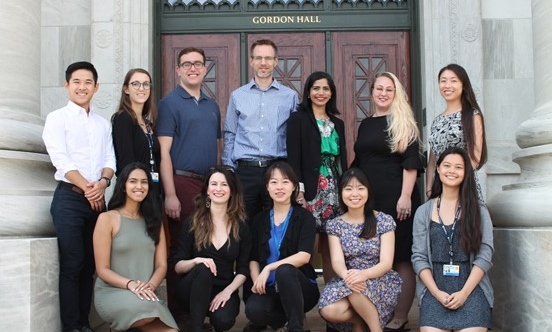 Top row (left to right): Nicholas Leung, Lauren Kelly, Jared Stone, Frank Scheer, Sarah Chellappa, Kayla Kerlin‐Monteiro, Ivy Mason.
Bottom row (left to right): Suhina Srivastav, Nina Vujovic, Jingyi Qian, Hoa Nguyen, Su Wei Heng


The severity of many diseases varies across the 24-hour period. For example, heart attacks occur most frequently in the morning a few hours after waking up, temporal lobe epileptic seizures of the brain's temporal lobe usually occur in the late afternoon or early evening, and asthma is generally worst at night. The goal of the Medical Chronobiology Program at Brigham and Women's Hospital is to understand the biological basis behind these time-variant changes in disease severity. We aim to determine whether or not these changes are caused by the body clock (the endogenous circadian pacemaker) or attributable to behaviors that occur on a regular daily basis, including the sleep/wake cycle. Understanding the biological basis of these changes across the day and night may provide an insight into the underlying cause of the disease and could lead to better therapy (e.g. appropriately timed medication to target specific phases of the body clock or to coincide with specific behaviors that cause vulnerability, such as exercise).

To study these effects, we study both healthy and diseased human volunteers while they live in a laboratory in dim light (to prevent the body clock from being reset) and over a period of 5-14 days, during which we adjust their scheduled behaviors including the sleep/wake cycle. During their stay, volunteers have no knowledge of the time. In this way, we can schedule all behaviors to occur at all phases of the body clock, which allows us to analyze the data for the separate influences from circadian and behavioral factors. In addition, we investigate the interaction between the circadian timing system and therapy in the treatment of, e.g., hypertension and nocturnal asthma.
Publications:
List of Publications by MCP Faculty and Post-doctoral Fellows via PubMed.
News and Announcements:
News and Announcements  from HMS DSM about MCP.
Training and Employment Opportunities:
For training and employment opportunities in the Medical Chronobiology Program, contact Frank A.J.L. Scheer, Ph.D.



 Faculty
Faculty
Affiliated Faculty
| | | |
| --- | --- | --- |
| | | Steven Shea, PhD |

Postdoctoral Fellows
Research Staff
| | | | |
| --- | --- | --- | --- |
| Su Wei Heng | Lauren Kelly | Kayla Kerlin | Hoa Nguyen |


Per Diem Research Staff
| | | | | |
| --- | --- | --- | --- | --- |
| Joshua Bowen | Jin Cheng Chen | Tory Govan | Matthew Mayer | Luke Pezanko |
COOPs
| | | |
| --- | --- | --- |
| Nicholas Leung | Suhina Srivastav | Jared Stone |