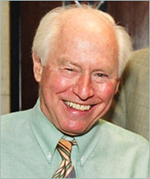 J. Allan Hobson, MD
Professor of Psychiatry
Harvard Medical School

Awarded in celebration of the work of J. Allan Hobson, master of the science and art of 
dream sleep. 
Adventurous scientific trailblazer who pioneered listening to the activity of brainstem neurons as they promoted and inhibited the occurrence of REM sleep. 
Inspired co-creator of the first coherent model of REM sleep occurrence. 
Gifted psychiatrist who saw the revolutionary implications of biologically determined dream sleep generation for reforming and reshaping psychiatry's ideas, and who remolded psychiatry and our culture's way of thinking about dream sleep. 
Synthetic genius who translated and transformed science into accessible art and symbol through Dreamstage and writing, alchemically melding scientific physiology and the magical subjectivity of the dream state.
Harvard Medical School
Division of Sleep Medicine
2005 Annual Prize in Sleep Medicine Recipient
See more information about the2005 Sleep and Health Benefit Dinner.