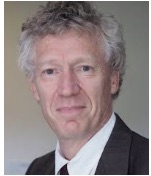 Emmanuel Mignot, MD, PhD
Craig Reynolds Professor of Sleep Medicine
Stanford University
On October 2, the 2013 Farrell Prize in Sleep Medicine was awarded in celebration of the life and work of Emmanuel Mignot, whose insight and persistence have dramatically advanced the understanding of narcolepsy and other sleep disorders. Starting with crucial genetic studies in the 1990's, through neuroanatomical work, and now with cutting edge immunological studies, Dr. Mignot and his lab have unraveled the mechanisms through which an autoimmune process kills the hypocretin-producing neurons in the hypothalamus, resulting in narcolepsy. These discoveries are scientifically fascinating and provide many new opportunities to develop better therapies to treat and possibly prevent the development of narcolepsy.  In addition, as the leader of the Center for Narcolepsy and now the Stanford University Center For Sleep Sciences, he has been an inspirational mentor to numerous young investigators. His notable areas of scientific contribution include:
Identifying polymorphisms in Human Leukocyte Antigen genes and other immune system genes that increase the risk of narcolepsy
Discovering that canine narcolepsy is caused by a mutation in one of the hypocretin receptor genes
Demonstrating that human narcolepsy can be due to hypocretin gene mutation, but that it is more often due to loss of hypocretin neurons.
Establishing the usefulness of spinal fluid measurements of hypocretin in the diagnosis of narcolepsy
Leading research to understand how immune system dysfunction results in the loss of the hypocretin neurons
Identifying the pharmacological mechanism of modafinil and other medications used in the treatment of narcolepsy
Harvard Medical School
Division of Sleep Medicine
2013 Peter C. Farrell Prize in Sleep Medicine Recipient
See more information about the 2013 Sleep and Health Benefit Dinner.