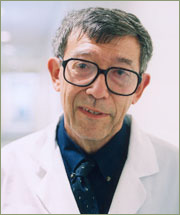 Christian Guilleminault, MD, DSc
Professor of Psychiatry and Behavioral Sciences and Neurology
Stanford University Medical School
Awarded in celebration of the life and work of Christian Guilleminault, and his inspired and pioneering clinical insight into obstructive sleep apnea. He was the first to discern this to be a common problem even in individuals of normal weight, and discovered one of its origins in the "upper airway resistance syndrome."  In his brilliant and multifaceted career as a clinical investigator, teacher, and editor, he has illuminated our understanding of virtually every domain of sleep disorders:
His observations on excessive daytime sleepiness demonstrated the diverse spectrum of medical problems caused by sleep apnea.
His prescient early work on the hemodynamic consequences of sleep apnea and their reversal with tracheostomy anticipated and laid the foundation of our current understanding that sleep apnea is a major risk factor for cardiovascular disease.
He taught us that excessive daytime sleepiness from sleep apnea afflicts children as well as adults. 
His pioneering early work on narcolepsy helped establish a mainstay treatment modality using drugs that block monoamine re-uptake
Harvard Medical School
Division of Sleep Medicine
2011 Annual Prize in Sleep Medicine Recipient
See more information about the 2011 Sleep and Health Benefit Dinner.